Pin It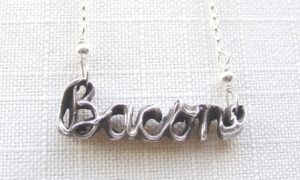 Who doesn't love bacon?
I know some of you are thinking where does she come up with this brilliant stuff… Well, I can't take all the credit myself… most of my ideas come from people like YOU.  My best sellers (including this one) are ideas I receive from my friends, family and clients.  Check out my "Naughty and Nice" collection on my website (www.solsticeltd.com) and you will see some of my best sellers.  Yes, I make the "F" word (spelled out) … and Yes, my naughty words out sell my nice words.  😉
These unique necklaces make wonderful and thoughtful gifts.  If you would like to have a special word or name made… challenge me, I dare you.   These necklaces come in Fine Silver (on a sterling silver chain) or plated with 24K Gold (on a gold filled chain).