Pin It
As I was creating this piece, I studied up on this beautiful creature and found that Seahorses engage in an eight hour courtship dance which includes spinning around, swimming side by side and changing colors!  How charming!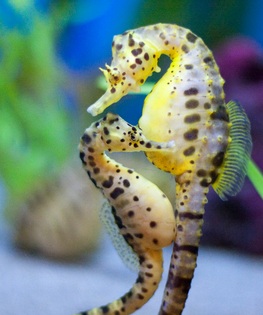 This necklace is available in 24k gold vermeil and sterling silver.  The pendant measures approx. 1"  long x 1/2" wide and is on either a sterling silver or gold filled chain
Seahorse Facts:
The oldest seahorse fossil recorded dates back over three million years ago.
During mating, female seahorses will deposit their eggs in to the pouch of the male who fertilizes the eggs internally carrying them until they emerge.
During gestation, the male and female meet up daily for approximately six minutes and then the female leaves again.
Seahorses prefer to swim in pairs with their tails linked together.
A group of seahorses is called a herd.
The seahorse is calm and peaceful. They move gently and slowly through the seas symbolizing patience.
Symbolism of the Seahorse
Perception
Patience
Awareness
Friendliness
Protection
Inflexibility
Perspective
Generosity/Sharing
High-Perception
Persistence
Contentment
Focus
Peace
Grace
Safe passage to underworld
Sharing parental responsibilities
Stubborn
Good luck
Being present
Calmness
Caution
Grounding